K1 Fiance Visa Requirements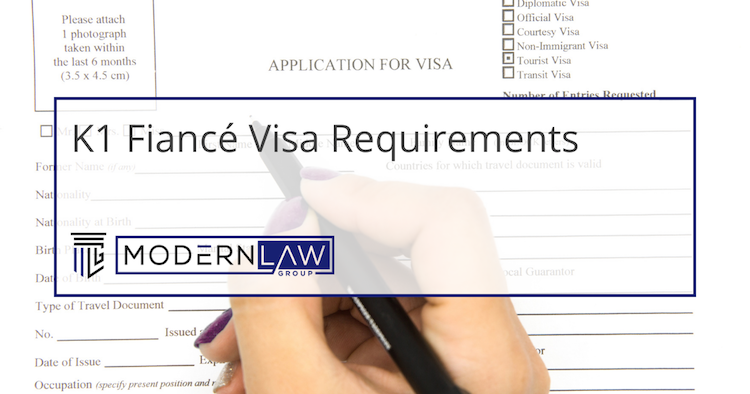 The K-1 Fiancé visa is issued to those who are engaged to US citizens and wish to marry. This process will allow your fiancé to travel to the U.S. and gain legal permanent residency through marriage to you. This visa is a great option for many couples however, there are requirements that need to be met before applying, these requirements include:
You, the petitioner, must be a U.S. citizen to file a petition for alien fiancé. If you are not a U.S. citizen but are engaged and wish to marry your significant other, please refer to our marriage visa article as this may be an alternate option for you. To prove that you are a US Citizen, usually a birth certificate, a naturalization certificate, or a US Passport is used as evidence.
You and your fiancé must both be single and legally free to marry. This means all divorces must be finalized before you can file for the K-1, using divorce decrees as proof. You will both have to submit proof of all terminated marriages at the time of filing as well.
You and your fiancé must have met in person at least one time within the last two years. This requirement is mandatory. If you have not seen your fiancé in person before or if it has been two years since you have, you must plan a trip soon; Skype, WhatsApp, Viber and other video applications do not satisfy this requirement.
You must have proof of your in-person visit. This can include photos together, boarding passes, itineraries, E-tickets, etc. If adequate proof of the trip isn't submitted to USCIS, you may receive an RFE (Request for Evidence). This RFE would need to be satisfied before your visa approval is given. You must not have committed particular crimes. This generally refers to multiple drug/alcohol arrests, sexual crimes, or domestic violence. Please give us a call if you do have a criminal history so we can speak about your options.
You must be able to financially support your fiancé. The I-864P, Poverty Guidelines covers the minimum income requirement to sponsor a K1 visa recipient into the U.S. The minimum income required varies depending on your household size and in some cases your state of residence. The U.S. citizen sponsor must earn at least 100% of the federal poverty guidelines when applying for the K1 fiancé visa, and the proof is usually in the form of tax returns.
The visa petition is initially filed with immigration services USCIS and once approved by USCIS (United States Citizenship and Immigration Services), the petition will be transferred to the US Embassy or Consulate via the Department of State. The visa interview with the consular officer is required before entering the United States on an immigrant visa.
Once the visa application is approved, and your fiance enters the United States, you must marry within 90 days and once you are married, you can apply to adjust status, otherwise known as filing for the Green Card.
If you meet these requirements, or are unsure, and would like more information, give us a call or send us an email.