Fiancé Visa Lawyer
Русский перевод
Traducción al Español
K1 Fiancé Visa Information - Fiancé Visa Lawyer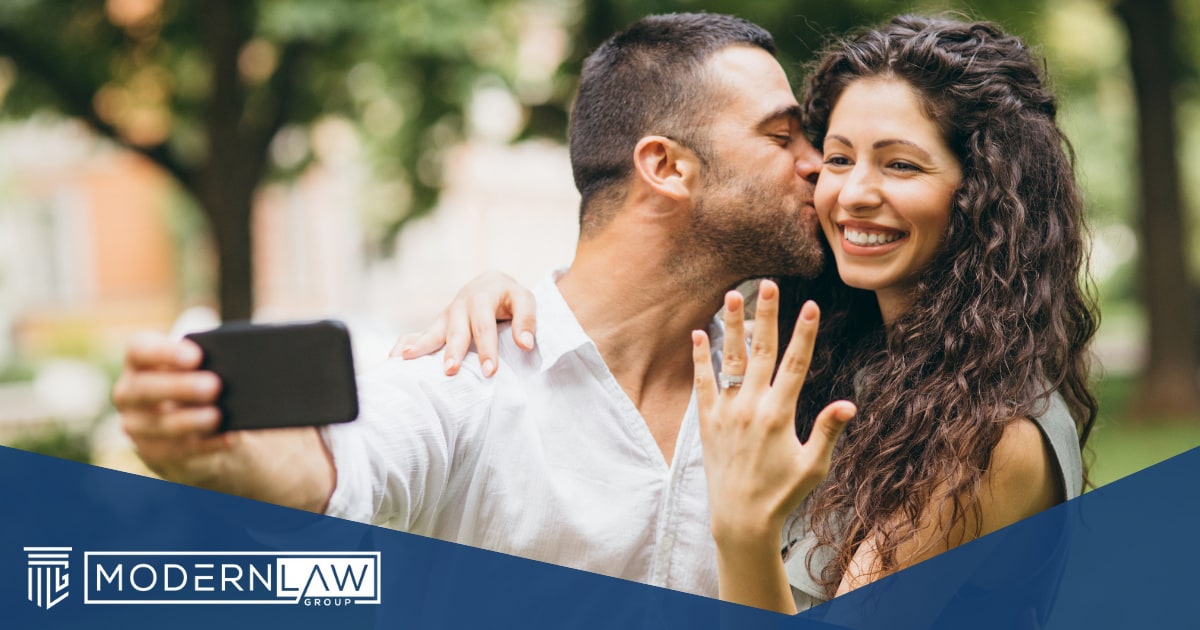 A K-1 or fiancé visa is a visa that allows the fiancé of an American citizen travel to the United States for the purpose of marrying a U.S. citizen and immigrating to the country. The U.S. citizen petitioner must marry the foreign citizen beneficiary in 90 days. Once married, the now spouse is eligible to stay in the United States and apply for permanent residency, also known as a green card.
Fiancé Visa Requirements
To qualify to petition the U.S. government for a K-1 fiancé visa, you must:
Be a U.S. citizen.
Have met your soon-to-be spouse in-person.
Both be free to marry.
Demonstrate that you can financially support your fiancé.
Have no major criminal history.
Your fiancé cannot petition for him- or herself. A U.S. citizen must petition the government for this visa. Here's a closer look at each requirement.
The U.S. Citizen Requirement for Fiancé Visas
Currently, the K-1 visa is only available to fiancés of U.S. citizens. If your fiancé is a lawful permanent resident, your alternative is a marriage visa (CR-1 spousal visa) – unfortunately, you aren't eligible to come to the U.S. for the purpose of getting married.
Meeting in Person Prior to Your Marriage
You must have seen your fiancé in person within the past two years. Seeing them on video or communicating regularly doesn't satisfy this requirement. However, your attorney can help you request a waiver for this requirement if meeting in person would violate strict and long-established customs of your or your fiancé's culture or social practices, or if it would cause extreme hardship to you.
Tip: You should take pictures together to prove that you met in-person.
Being Free to Marry
Being free to marry means that you are single, divorced or widowed. That applies to both of you; if either of you has a pending divorce, you cannot file the K-1 fiancé visa application until the divorce is complete.
Proving You Can Financially Support Your Fiancé
You must meet the federal poverty guidelines to show that you can support your fiancé. In many cases, the U.S. government allows you to use a co-sponsor or list other assets you have to meet the financial requirements for K-1 visa approval.
Your Criminal History and the Fiancé Visa
The U.S. government will look at your criminal history when applying for a fiancé visa. If a court has convicted you of serious crimes or more than three drug- or alcohol-related offenses, you need a waiver. Additionally, your intended spouse must meet admissibility requirements, which requires a criminal history check. An experienced fiancé visa attorney can help overcome these issues if they apply in your case.
How the K-1 Visa Process Works With Modern Law Group
After you hire fiancé visa lawyer Deron Smallcomb, your case is assigned to a case worker who's familiar with your fiancé's country. Generally, caseworkers speak the same languages as the beneficiaries (fiancés) we work with. From there:
We give you and your fiancé access to our secure website, where you can enter your basic information and upload the documents we require to work on your case and get you the best possible outcome.
Your caseworker completes all the necessary forms using the information you provide. The caseworker then sends the completed forms to a supervisor for review.
Our team sends you the fiancé visa forms to review and sign.
You sign and return your forms to our office with the current filing fee.
We put together your K-1 visa petition on send it to your immigration attorney for review and signature.
We file your completed fiancé visa petition with U.S. Citizenship and Immigration Services on your behalf.
The whole process is seamless – you don't need to worry about anything but providing us with the information we require through our secure website. Our team handles everything for you (right down to filing your forms and tracking your case) so all you need to do is wait for notification that USCIS has processed your application.
Fiancé Visa Wait Times
Usually, it takes USCIS about 8 months to process K-1 fiancé visas, though several factors may affect your wait time. Here's a closer look at how long each step of the process generally takes:
After we file your K-1 petition with USCIS, it takes 1 to 3 weeks to receive a receipt notice and case number.
USCIS typically processes applications within 4 to 7 months. You receive a decision notice from USCIS after it finishes processing your application.
USCIS transfers your K-1 fiancé visa application to the National Visa Center, or NVC, for approval and transfer to the U.S. embassy in your fiancé's home country. This process may take several days.
Our team works on the fiancé visa forms for the U.S. embassy, including Form I-134, Affidavit of Support, and Form DS-160, Nonimmigrant Visa Application. We complete these forms quickly to expedite your case.
The U.S. embassy contacts your fiancé within approximately 2 months to schedule an immigration interview. (Note: You must usually pay the current K-1 visa issuance fee prior to your fiancé's immigration interview.)
Your fiancé must schedule a medical exam after he or she receives an interview notice. The appointment date will affect your timeline, so it's in your best interest to schedule the medical exam as soon as possible.
Information on the Fiancé Visa Interview
After your fiancé completes his or her medical exam and our firm has prepared all your K-1 visa forms, an official at your fiancé's nearest U.S. embassy will conduct an interview.
During your fiancé's interview, a U.S. consular officer will review all the documents related to your petition. The officer will also examine evidence that shows you have a bona fide (genuine) relationship and proves you're not simply getting married to convey an immigration benefit to your intended spouse.
The official assigned to your case will ask your fiancé questions about the legitimacy of your relationship. If the consular officer is satisfied with your fiancé's answers to the interview questions, he or she will grant approval for the K-1 visa. Your fiancé can expect to receive the visa within 5 to 10 days.
Tip: Though the petitioner isn't required to attend the interview, it doesn't hurt – and if you wish to go together, you can.
What Happens After K-1 Fiancé Visa Approval?
After your fiancé has the K-1 visa, they are free to travel to the United States. Your fiancé must use the visa within 6 months of issuance – otherwise, it becomes invalid and you have to start the whole process over again.
Additionally, after your fiancé arrives in the United States, you must marry within 90 days. If you don't get married within that timeframe, you have to start from scratch.
Applying for a Conditional Green Card Through Adjustment of Status
After you and your fiancé marry, he or she is eligible for lawful permanent residency in the United States. Lawful permanent residency allows your spouse to live and work anywhere in the country, and eventually, to apply for U.S. citizenship based on your marriage (though applying for citizenship is never a requirement). When your spouse is a lawful permanent resident, or LPR, he or she will get a green card; that's the document that proves LPR status.
You must apply for an adjustment of status on your spouse's behalf to get him or her a green card. Your attorney can help you with the process, which involves filling out and filing forms with U.S. Citizenship and Immigration Services.
When your spouse receives a green card, it will be considered conditional. That means your spouse must meet certain requirements to keep his or her lawful permanent resident status. Primarily, your spouse has to remain married to you for at least two years and prove that your marriage is genuine. Within the 90 days before the conditional green card expires, you must petition the U.S. government to remove the conditions. If you fail to apply to remove conditions, the U.S. government will initiate removal (deportation) proceedings against your spouse, so it's absolutely essential that you do so. After the government approves the removal of conditions, your spouse will receive an ordinary green card that's valid for 10 years.
Additional Fiancé Visa Video Information