Business Immigration
Русский перевод
Traducción al Español
Business immigration in the United States is notoriously complex – and for most companies that need to bring in foreign workers, it makes sense to work with an immigration attorney with experience in business visas. Modern Law Group handles a wide range of business immigration issues, and we may be able to help you, too.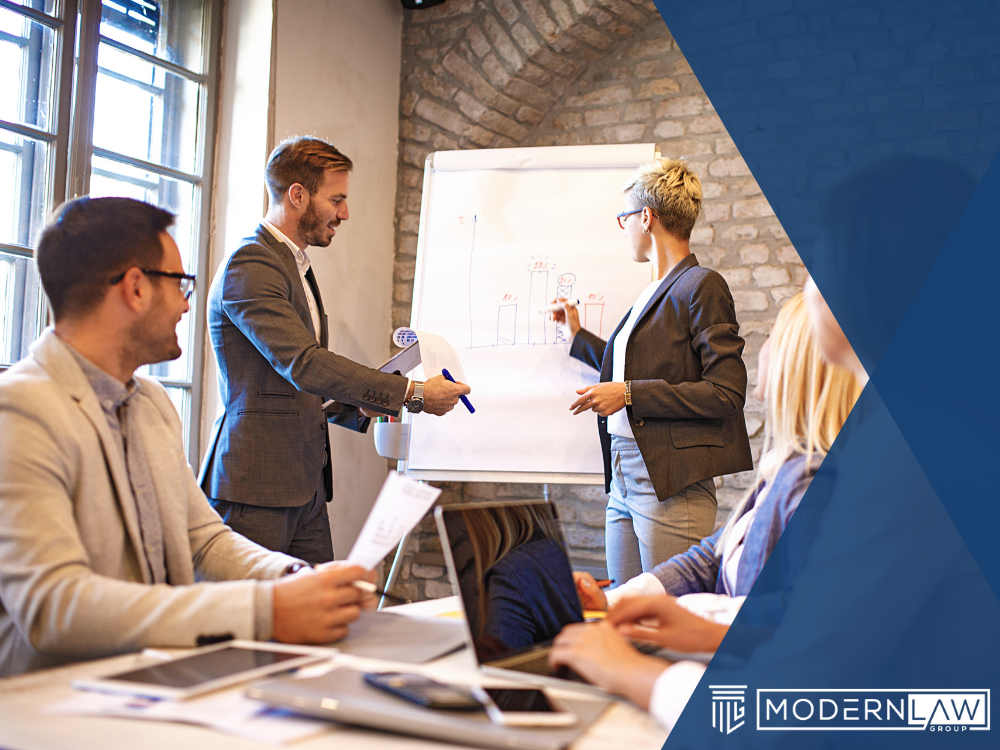 Business Immigration: Everything You Need to Know
First things first: If you're a worker, you generally can't apply for business immigration on your own. Your employer – or prospective employer – must petition the United States government for you. There are some exceptions, such as when you're an immigrant investor who has a significant amount of capital to put into a U.S. business.
With that said, if you're an employer who needs to bring in foreign talent, you may benefit from working with an immigration law firm that can help ensure you're on the right side of U.S. immigration law. Some of the aspects of business immigration law that an attorney can help you with include:
Nonimmigrant visas for workers
Immigrant visas for workers
Department of Labor Certification
PERM labor certification
Here's a closer look at each.
Nonimmigrant Visas for Workers
There are a number of nonimmigrant visas that businesses can apply for on behalf of workers. These visas allow people to come to the United States and work without conveying any other immigration benefits.
There are a number of nonimmigrant visas available to workers, and each comes with its own purpose and duration of stay. Some of the most commonly used nonimmigrant visas include:
E-1, E-2, E-3 and EB-5 visas for treaty traders, treaty investors, and some specialty occupation professionals from Australia
H-1B visas for temporary workers in specialty occupations
H-2 visas for temporary or seasonal agricultural workers and temporary non-agricultural workers
L-1 visas for intracompany transferees
O-1, O-2, P-1, P-2 and P-3 visas for persons with extraordinary abilities, artists and entertainers
R-1 visas for religious workers
TN visas for North American Free Trade Agreement from Mexico and Canada
There are a number of other nonimmigrant visas available, as well. Many of these visas enable family members, such as spouses and unmarried minor children, to accompany the visa holder to the United States. Each one of these visas comes with its own set of requirements for qualification. Generally, businesses must file specific paperwork with the U.S. government before they can hire workers on any of these visas. If your company wants to bring in temporary workers for any profession, your best bet may be to talk to an immigration attorney who can help you understand which visa types you need and what you need to do to remain compliant with United States immigration law.
L-1 Visa - Intracompany Transferee Executive, Manager, or Owner
The basic concept behind a L1 visa is that you are an Executive, Manager, or Owner of business overseas and you are looking to transfer to an affiliated company, such as a subsidiary, here in the USA. This visa allows you to work in the USA and bring your immediate family with you and can lead to a 'Green Card'.
Immigrant Visas for Workers
Immigrant visas are different from nonimmigrant visas because they create a path to United States citizenship. When a worker has an employment-based immigrant visa, they can obtain a green card and apply for citizenship after holding the green card for a period of five years.
Most companies only sponsor employees temporarily, but it is possible to secure an immigrant visa for a worker. In order to do so, you must have an open position within your company that a U.S. citizen cannot fill. You must also obtain a labor certification from the United States Department of Labor, and the person you want to hire must meet certain qualifications as well.
The United States government gives immigrant visas to people according to the category in which they fall. The categories the U.S. government uses for immigrant worker visas include:
E1, first preference. These visas are for persons with extraordinary abilities in the arts, education, sciences, business or athletics. They are also for outstanding professors and researchers, as well as multinational managers or executives who work for U.S. employers.
E2, second preference. E2 visas are only for professionals who hold advanced degrees and persons of exceptional ability.
E3, third preference. These visas are available to skilled workers, professionals and unskilled workers.
E4, fourth preference. E4 visas are only available to certain special immigrants, such as broadcasters, some former employees of the United States government in Panama, Iraq and Afghan nationals who were employed by the United States government during wartime, and a handful of other people.
E5, fifth preference. E5 visas are only available to immigrant investors. Immigrant investors must have a specific amount of capital to put into United States companies, and they must invest in new commercial enterprises.
E2 Visa - Controlling Investment in a Business in the USA
The E-2 Investor Visa allows an individual to enter and work inside of the United States based on an investment he or she will be controlling, while inside the United States. For example, you buy a business in the United States and intend to manage it. You must be from a treaty country to participate in this visa.
EB5 Visa - Large Investment to Receive a 'Green Card'
The EB5 Immigrant Investor Program was created to provide a method for eligible investors to become lawful Permanent Residents. The typical minimum investment is $10,050,000, though a smaller investment of $800,000 can be made in certain rural or high unemployment areas. This application process is very complicated, but we can help.
Department of Labor Certification and PERM Labor Certification
For a company to hire foreign workers, it must apply for certification from the United States Department of Labor. Companies must:
Provide evidence that it needs to hire a foreign worker to fill a specific vacancy
Show that the job vacancy meets certain criteria for the foreign labor certification program
Prove that it can pay a new hire at least the prevailing wage
The company must then also petition the United States government for a work visa on behalf of the employee it wishes to hire. Foreign employees must meet certain criteria to be admissible to the United States, and they must fill out and complete specific paperwork, depending on the visa type the employer is trying to obtain.
When a company wants to hire an immigrant worker, rather than a nonimmigrant worker, it must obtain a permanent labor certification from the United States Department of Labor. In many cases, the employer must have a certified labor certification application before it can apply for permanent labor certification.
As you can see, the process can quickly become complicated; that's why many people choose to work with an immigration attorney. Violation of the rules and regulations governing the hiring of foreign workers can result in hefty fines and other severe consequences for companies.
Do You Need to Talk to an Attorney About Business Immigration?
If you need to talk to an attorney about business immigration, whether you're an immigrant investor or you run a company that needs to bring in foreign talent, we are here to help. Please feel free to call our office and schedule a consultation with an experienced immigration attorney now. We can answer all of your questions and ensure that your company is on the right path.