K-1 Fiance(e) Visa for Military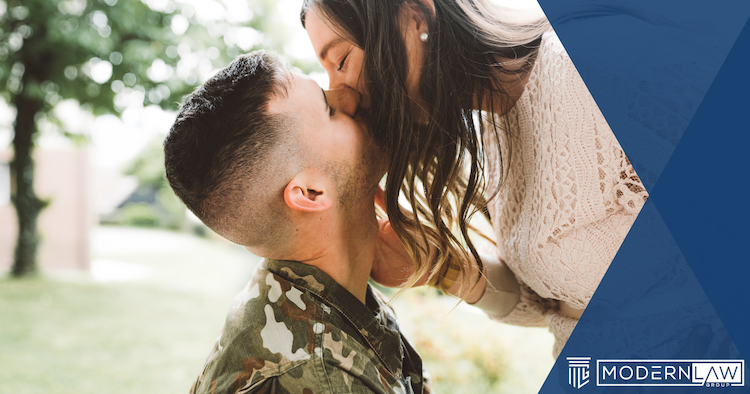 US Military members are often stationed overseas in various locations around the world. So it is no surprise that many members of the Armed Forces often enter romantic relationships or marriages with individuals from another country. But when you return from active duty back to the United States, it may seem difficult to keep a long-distance relationship going. However, there are options that will allow your significant other to enter the US and reside in the country with you permanently.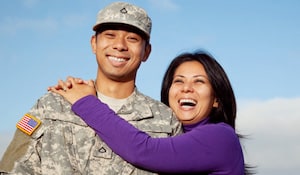 For those active-duty members deployed overseas who are engaged to a non-US citizen, the K-1 fiancé(e) visa process is an option for you. This page details exactly how the K-1 fiancé(e) visa works, as well as the application process and eligibility requirements. Read on to learn more.
What is the K-1 Fiancé(e) Visa?
The K-1 is a visa issued to the fiancé or fiancée of a United States citizen, allowing them to enter the country. This visa will allow your partner to travel to the US for a period of 90 days with the intent to marry and immigrate to the US. If your fiancé(e) has children under the age of 21, they may also be eligible to immigrate to the US at the same time. Once the marriage occurs, the foreign citizen can then file an adjustment of status to obtain a green card and become a lawful permanent resident of the United States.
Although any foreigner wishing to marry a United States citizen can apply for a K-1 visa, they are commonly used by the fiancé(e)s of military personnel, who established relationships with a partner on active duty abroad. In fact, the K-1 visa was established in 1970 as a direct result of US involvement in Vietnam.
Who is Eligible?
There are several requirements that must be met by both parties in order for the foreign citizen to obtain a K-1 visa. The necessary criteria are listed below.
Requirements for the foreign citizen
Live outside of the United States
Be free and legally able to marry
Have a clean criminal record
Be able to present the necessary documents to the US authorities, including birth certificate, passport, police certificates, and military records if applicable
Requirements for the US sponsor
Be a US citizen and be able to prove they are American, either by birth or naturalization
Be free and legally able to marry
Be able to financially support themselves and their partner once they are in the United States
In addition to these requirements, both the foreign partner and the US sponsor must have met in person during the two years prior to the date of filing the application. You will need to provide evidence of this meeting, in the form of photographs, travel tickets, or receipts indicating date of travel.
In order to use the K-1 visa to obtain a green card for the military spouse, the couple must marry within 90 days of the foreign partner's arrival into the United States. If this marriage does not take place, they will have to return to their home country.
How to Apply
Applying for a K-1 visa is a relatively straightforward process, but it will help your application if you know what to expect. These are the steps you will need to follow when applying for a K-1 visa for you or your partner.
Step 1: File Form I-129F
This form is the Petition for a Alien Fiancé, and can be filled and submitted on the USCIS website. The I-129F is intended to prove that your relationship is legitimate, and will require several supporting documents to verify your identity and the authenticity of your upcoming marriage.
Step 2: File Form DS-160
Once USCIS have approved your I-129F application, your case will be transferred to the US Department of State National Visa Center, and you will be required to fill out an online DS-160 Form, which is your Online Nonimmigrant Visa Application.
Step 3: Attend a visa interview
By this point you will have received a date and location for your scheduled visa interview, which will take place at an agreed US consulate or embassy. Only the foreign fiancé(e) will need to attend the interview, and the decision of approval or denial will usually be made on the same day. You will also need to pay the visa fee.
Step 4: Come to the United States
Once your K-1 visa application has been approved, you will receive your visa in the mail. It's important not to open the sealed packet as this may jeopardize your entry into the US. You must enter the country within four months of your visa being approved, and must get married within 90 days to ensure the validity of your visa.
What are the Alternatives to a K-1 Fiancé(e) Visa?
For individuals who are already married or considering marriage to a non-US citizen, the CR-1 spousal visa may be your best option. This visa allows the spouse of a U.S. citizen or permanent resident to travel to the US and receive permanent residency (in other words, your spouse will receive a green card). If you and your spouse have children under 21, they are also eligible to immigrate to the U.S. and receive permanent residency.
Is it Possible to Expedite a K-1 Fiancé(e) Visa Application?
For active-duty members with orders to deploy, your spousal or fiancé(e) visa petition may be eligible for expedition. A copy of your orders along with a request to expedite may grant your fiancée or spouse quicker processing of their petition and reduction in your time apart.
Can You Work With a K-1 Visa?
A foreign citizen with a K-1 fiancé(e) visa can work in the United States before they obtain permanent residence, but only if they apply for work authorization. You can do this by filing form I-765 (Application for Employment Authorization). This will only be valid for 90 days from the date of arrival in the US.
How Much Does a K-1 Fiancé(e) Visa Cost?
The total cost of your K-1 visa application will depend on your exact circumstances. The mandatory fees are typically $800 for the K-1 visa application and $2025 when adjusting to a green card after arrival in the US. These fees include the necessary forms and biometrics, but do not include the cost of the medical examination, which can range from $100 to $500.
Do You Need Help Getting A K-1 Visa For a Military Fiancé?
If you need help applying for a K-1 fiancé(e) visa for either you or your partner, get in touch with The Modern Law Group for a free consultation.