Inadmissibility on Public Charge Grounds – Form I-944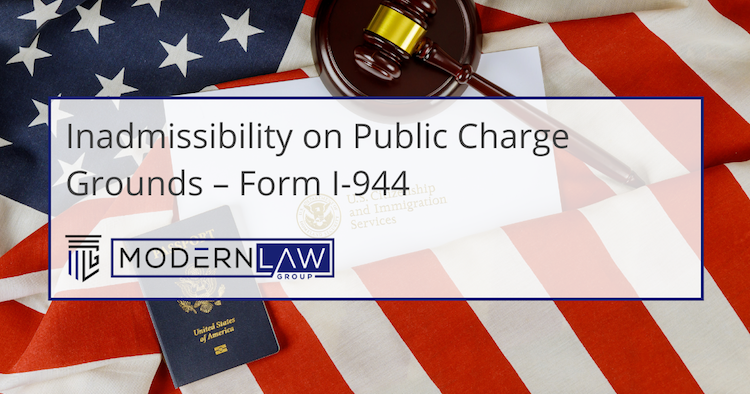 In October of 2019 USCIS, DHS published a final version of the 'Public Charge' rule, officially titled "Inadmissibility on Public Charge Grounds", which will be effective from February 24, 2020.
Depending on the type of application filed with USCIS, the new form I-944 would be required. For some types of applicants, it would be mandatory…but, for some it is optional and only required if requested by USCIS. It is an 18-page long form where you would need to fill in many details like age, family info, health info, assets info, income, credit history, etc.
According to the new rule, all individuals applying for adjustment of status using form I-485 are required to submit Form I-944, unless they are in a class that is exempt by statute or regulation. If you are a family filing for permanent residence, each application (Form I-485) must be accompanied by a separate Form I-944.
It may further be requested by USCIS when filing for visa extension or change of status. Public Charge Rule applies to H1B, L1, H4, L2 visa holders, and many other visas of similar category as well. The same Public Charge rule applies to F1 Students, OPT holders, where it might be required to file a separate I-944 form as well.
So, technically, if you filed for H1B, L1, F1, H4, etc. Extension or COS, you may get an RFE (Request for Evidence) to prepare and submit form I-944.
In the instructions to Form I-944 it is clearly stated that an alien is inadmissible under INA section 212(a)(4) if he or she is more likely than not at any time in the future to receive one or more public benefits, as defined in 8 CFR 212.21(b), for more than 12 months in the aggregate within any 36-month period (such that, for instance, receipt of two benefits in one month counts as two months).
According to the instructions to the form, the list of categories who are exempt from the public charge ground of inadmissibility is long, which includes VAWA self-petitioners, Special Immigrant Juveniles, Asylees, Refugees, victims of human trafficking, etc.
Also, there is a list of exclusions from the public benefit receipt consideration, such as U.S. Armed Forces Service Members, Federally-funded Medicaid recipients, Children Acquiring U.S. Citizenship, etc.
Aside from Personal & Household Assets, Resources, and Financial Status, which in turn would include Mortgages, Education loans, Credit Cards related debt, Car Loans, Tax Debts, Personal Loans, Credit Score Report, Health Insurance, you will need to indicate certain details about your life, such as Foreign School Evaluation, Occupational Skills, Licenses, English and Other Language Skills, Retirement Details, etc.
This is not all! Depending on your case, USCIS could schedule you for an interview for you to attend regarding the details you provided.
When conducting the assessment, USCIS will take into consideration all the details listed in form I-944, such as applicant's age, health, family information, assets in possession, current and previous financial status, education, skills, etc. Based on the collected information, USCIS will consider them a negative or positive aspect to determine if an applicant would become a public charge in the future. It is worth mentioning that, if you knowingly and willfully falsify or conceal a material fact or submit a false document with your Form I-944, USCIS will deny your Form I-944 and may deny any other immigration benefit. In addition, you will face severe penalties provided by law and may be subject to criminal prosecution.
Here is a hypothetical example: An applicant is 32 years old (positive factor and the weightage is neutral for that). But the applicant has a health condition which requires medical treatment (negative factor), they do not have health insurance and may not afford private insurance (a strong negative factor).
Below, DHS provides examples of potential public charge inadmissibility determinations. These examples are for illustrative purposes only and assume a closed universe of facts for purposes of simplicity. The examples are not intended to represent actual possible outcomes, as each case is reviewed individually on its own merits.
Favorable Determination of Admissibility1
The following is an example (Table 34) of a set of facts that would likely result in a favorable determination of admissibility for public charge purposes. An alien would need to meet all other admissibility and eligibility requirements of the immigration benefit the alien is seeking.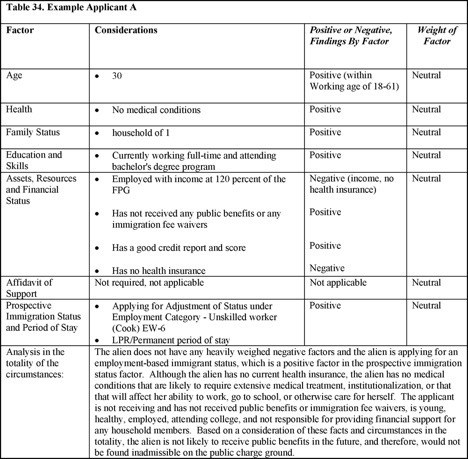 Unfavorable Determination of Admissibility
The following is an example (Table 35) of a set of facts that would likely result in an unfavorable determination of admissibility for public charge purposes. The alien may also be subject to other inadmissibility grounds.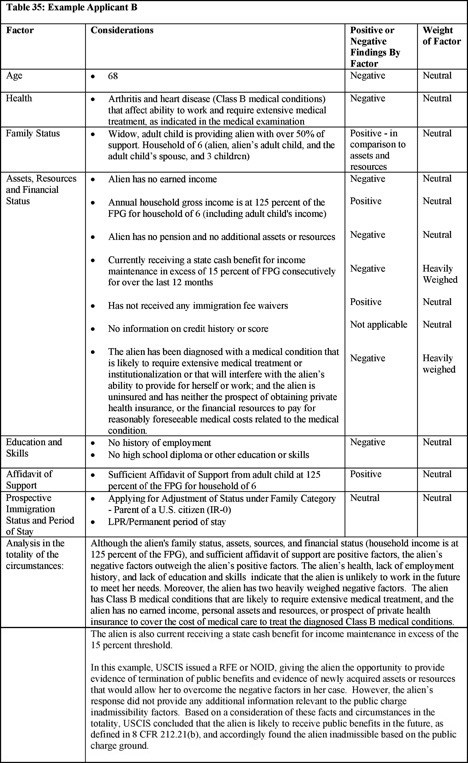 It is important to understand that changes in federal laws can and do occur. If the rules change, trust us, the Modern Law Group, P.C., in order to successfully prepare and submit your package to the USCIS.
We encourage you to contact our office for a free Asylum case evaluation, so you can find out what our legal team can do for you in your situation. Whether it is complex or straightforward we can help.
Modern Law Group, P.C.
US Toll-Free Number: 888-902-9285
Tel.: 619-755-9822
Fax: 619-378-6556

Address in California: 2305 Historic Decatur Rd # 100 San Diego, California 92106
Address in New York: 517 Brighton Beach Avenue, Flr. 2 Brooklyn, New York 11235
---
1Inadmissibility on Public Charge Grounds - A Proposed Rule by the Homeland Security Department on 10/10/2018; https://www.federalregister.gov/documents/2018/10/10/2018-21106/inadmissibility-on-public-charge-grounds