Extend Your Visa / Visitor Visa Extensions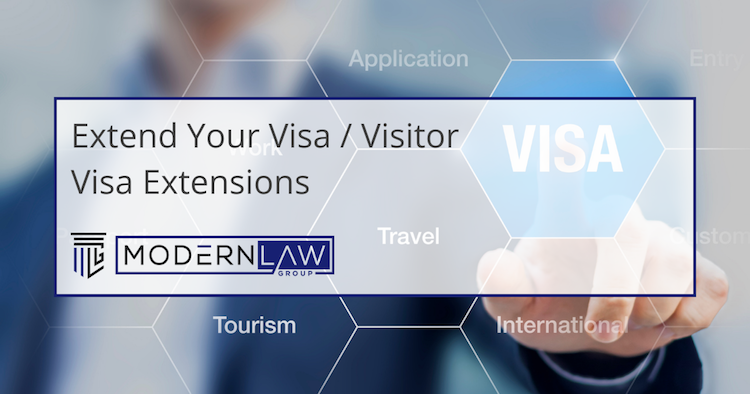 ARE YOU STUCK IN THE USA DUE TO CIRCUMSTANCES BEYOND YOUR CONTROL?
If you are currently in the United States with a visa which is about to expire but, considering your personal or global circumstances you wish to remain in the US longer, the best choice would be to file for an extension or change of your current non-immigrant status.
If you remain in the United States longer than authorized without any prior extension request your stay will be considered unlawful even if you stay for one day and leave the country. In this case, you will be barred from returning to the US, however if you are still inside the US with no pending extension/change of status filed, you will be removed (deported) from the United States forcefully.
United States Immigration and Citizenship Services recommends that you apply to extend your stay at least 45 days before your authorized stay expires.
You may apply to extend your stay if:
You were lawfully admitted into the United States with a non-immigrant visa
Your non-immigrant visa status is still valid
You have not committed any crimes that make you ineligible for a visa
You have not violated the conditions of your admission
Your passport is valid and will remain valid for the duration of your stay
Considering the nowadays uneasy situation with the pandemic, many offices closed down temporarily or until further notice, however, the USCIS offices still accept and process applications.
Once the lock-down is over there will be an overwhelming flow of applicants that would overflow the processing centers. This would push back any and all processing time for each individual case which can complicate your situation even further. Furthermore, according to the proposed fee schedule for the application is set to rise sometime soon.
Our office is always there to help. We strongly suggest taking advantage of the current situation to make it possibly beneficial for you in these dire times. We recommend filing for an extension of your status now, rather than putting it off till the last moment, as this will put you in front of the long line and won't cost you much in government fees if filed sooner rather than later.
Our experience in this area has been tested by time and the number of approved immigration cases at 99 +%.
It is important to understand that changes in federal laws can and do occur. If the rules change, trust us, the Modern Law Group, P.C., in order to successfully prepare and submit your application package to the USCIS.
We encourage you to contact our office for a free Asylum case evaluation, so you can find out what our legal team can do for you in your situation. Whether it is complex or straightforward we can help.
Modern Law Group, P.C.
US Toll-Free Number: 866-771-4005
Tel .: 619-755-9822
Fax: 619-378-6556
Address
in California: 2305 Historic Decatur Rd # 100, San Diego, California 92106
in New York: 517 Brighton Beach Avenue, Flr. 2, Brooklyn, New York 11235