What is CFO Seminar?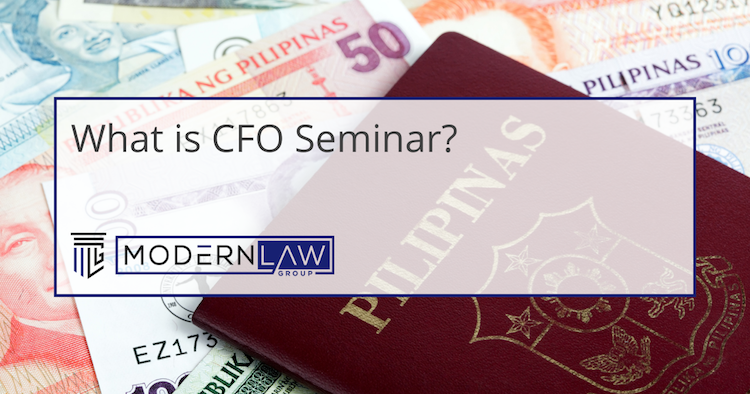 If you are applying for a new passport after having adopted the surname of your US citizen spouse and/or planning to immigrate to the US, you are required to attend the Guidance and Counseling Program offered by the Commission on Filipinos Overseas (CFO). This is a pre-departure orientation required by the Philippines government. Bureau of Immigration officers at the NAIA international port of exit will request for this. Here is a link to register. You will need to print the registration's barcoded confirmation page: https://cfo.gov.ph/overseas-filipinos-cfo-online-registration-system-or-of-cors-2/
Upon completion, you will receive a Guidance and Counseling certificate. This certificate does not have an expiration date. Once your K1 or immigrant visa package is in your possession, you will need to travel back to CFO to have an emigrant sticker affixed in one of the pages on your Philippines passport.
You can attend the orientation in any of the 4 locations:
Manila (Appointments only)
Cebu (First come, first serve basis)
Clark, Pampanga (First come, first serve basis)
Davao (Appointments only)
The counseling session can take up to 6 hours.
CFO - MANILA
Citigold Center, 1345 Pres. Quirino Ave.
corner Osmena Highway (South Superhighway)
Manila, Philippines 1007
Telephone: (+632) 552-4700
Email: info@cfo.gov.ph
CFO - CEBU
4th Floor, K&J Building
#4 Don Julio Llorente St.,
Capitol Site, Cebu City 6000
Telephone: (032) 255-5253
Email: cfocebu@cfo.gov.ph
CFO - CLARK EXTENSION DESK
One-Stop Processing Center in Clark (OSPC)
Clark Polytechnic Compound,
Jose Abad Santos Ave., Clark Freeport Zone
Telephone: (045) 499-8119
Email: info@cfo.gov.ph
CFO - DAVAO SATELLITE OFFICE
5th floor, AMQ Building, Lakandula St.
corner, Dacudao Ave., Agdao, Davao City
Telephone: (+6382) 228-2432
Email: info@cfo.gov.ph
If you would like for our firm to evaluate your situation, give us a "no-obligation" call at (888) 902-9285. Let us guide you to the right path to achieve your immigration goals!