How to Bring Your Parent to the United States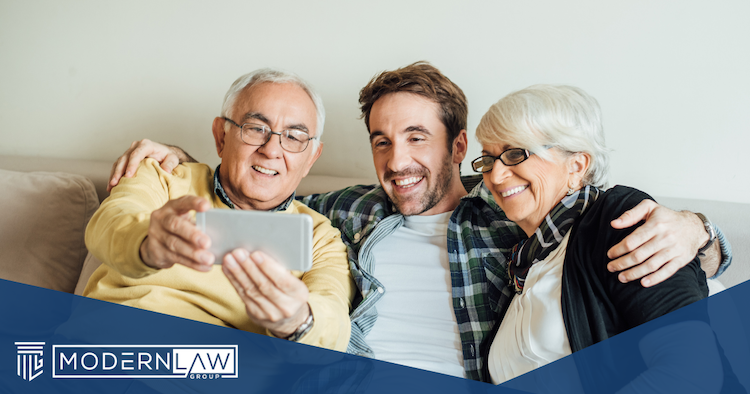 Now that you have achieved your path to U.S. citizenship, you might be feeling like there's something missing.
Even if your parents are able to receive a tourist visa, they are only allowed to stay in the United States for a maximum of six months at a time. If that option is not favorable for you, there are ways in which your parents can become green card holders and be permanent residents of the United States. The following takes a look at the different ways you can bring your parents to live with you in America.
How to Apply for a Parents Green Card
A green card will allow your parents to move with you to the United States and settle there permanently.
Step 1: Determine Eligibility
The first step in beginning this process is to determine the eligibility of you and your parents to move forward.
It is important to note that unless you, the petitioner, are a citizen of the U.S. and are at least 21 years old, you are not eligible to petition for your parents to become permanent residents. Being a permanent resident yourself is not enough. The only time a green card holder can apply for a green card for an immediate relative is if they are applying for their spouse or unmarried children who are minors.
In addition, you will need to be able to demonstrate a qualifying relationship, i.e. that you are the child of your parents. This can be proved through documents such as birth certificates or adoption records, if applicable. You will also need to prove that you have the financial means to support your parents once they immigrate to the United States.
Step 2: Prepare Supporting Documents
Alongside your application, you will need to gather any supporting documents that establish a valid family relationship, In most cases, if you are petitioning for your mother or father who live outside of the U.S., you will need a copy of your birth certificate, a copy of your U.S. passport or certificate of naturalization (if you were not born in the U.S.), and a copy of your parents' civil marriage certificate if you are petitioning for your father only. You can see what other supporting documentation you might need depending on your familial situation on the USCIS website.
Step 3: Submit Application
Along with your supporting documents, you will need to submit a completed I-130 form, officially known as a Petition for Alien Relative. You must also submit an affidavit of support for your parent, referred to as the I-864 form. This document is required for every family-based green card petition that guarantees financial support for the beneficiary. Generally, the person that submits the I-130 is also the sponsor for the I-864, but that may not always be the case depending on your circumstances. Some of the required information needed from the sponsor when filing the I-864 include your most recent tax return and pay stubs.
The next steps in the process depend on whether your parents are currently residing in their country of residence, or if they are staying in the United States on a visitor visa. To apply for a green card for your parents, there are two pathways you can choose: adjustment of status or consular processing.
Adjustment of Status
Adjustment of status can be filed if your parent is already physically present in the United States; however, they must have entered with a non-immigrant visa. The best example of this situation is if your parents decided to come and visit you with a visitor visa, and while they were here, you decided you want them to stay with you permanently. In this case, you will need to file the I-485 form for an adjustment of status.
The necessary documents that are needed to file include:
Alien registration number (if applicable)
Passport
I-94 (proof of lawful entry)
Receipt for pending or approved I-130
Address and employment history for past 5 years
Marriage and divorce dates for any previous marriages
Filing for adjustment of status is a good option because it permits your parents to stay in the United States while their application is being processed. Additional forms should also be filed for your parent, such as an Application for Employment Authorization (form I-765) and Application for Travel Document (form I-131). These documents will ensure your parents can work legally in the United States and travel freely outside of the U.S. until their application has been fully approved. However, traveling should only be done in emergency situations to avoid any complications with the application.
Consular Processing
The second way your parents can receive a green card is through a U.S. embassy or consulate in their own country. This process also begins with the petitioner filing the I-130 form. Once this form is approved by the U.S. Citizenship and Immigration Services (USCIS), it will then be sent to the Department of State's National Visa Center (NVC), and it will remain there until an immigrant visa becomes available. The NVC will notify your parents when a visa becomes available and when they must submit additional fees and documents, such as the Application for Visa and Alien Registration (form DS-260) and form I-864.
Step 4: Attend Visa Interview
Once the necessary forms have been submitted, your parent will be invited to a visa interview at an agreed location. This will be either a USCIS office or their chosen US consular office, depending on whether they are currently in the US or not. Following the interview, if all goes well, the application will be approved and an immigrant visa will be granted.
Along with the visa, your parent will also receive a visa packet that they will bring with them upon their arrival to the U.S. and give to the Customs and Borders Protection officer at the port of entry. Once inspected and admitted, your parent will be awaiting their green card in the mail and will have the authorization to live and work in the United States permanently.
Frequently Asked Questions
Will My Parent be Eligible for US Citizenship?
If one or both of your parents wish to become a full US citizen, they may do so. After five years of having a green card, they will be eligible to apply for US citizenship.
Can I Sponsor My Other Relatives in the Same Application as My Parents?
If you wish to bring other relatives to the United States with you, such as a brother, sister, or grandparent, you will not be able to sponsor them on the same application. You will either have to petition these relatives separately, or your parents can petition them themselves once they have achieved green card status in the United States.
How Old do I Have to Be to Sponsor My Parents?
As well as being a US citizen, you cannot sponsor your parents to move to America unless you are at least 21 years of age.
How Much Will My Parents' Green Card Cost?
The exact cost of a green card for your parents will depend on whether they are currently living within the United States or not. If filing an adjustment of status, the typical overall cost will be around $1760, while if they go through consular processing in their country of residence the figure is likely to sit at $1200. They will also need to factor in the cost of medical examinations and immigration attorney services if needed.
How Long Will the Process Take?
It is understandable that you want your parents to become settled in the US as quickly as possible, but the visa application process follows stringent guidelines. Because a parent is an immediate relative, the processing time will likely be shorter than that of other family members. Nevertheless, the process can take up to 16 months depending on your case.
Bring Your Parent to the United States
As a citizen of the United States, you have the ability to bring your parents to the United States and help them achieve their status of permanent residency. We understand that every circumstance is unique, and everyone's situation is different; nevertheless, we are available to discuss your options and help you decide how to move forward.
While both processes have advantages and disadvantages, the good news is that these family-based petitions are considered a priority for the USCIS, and your wait time should be as minimal as possible. Due to the complexity and time-consuming nature of this process, we are equipped to put you and your family at ease by making this process as smooth as possible. Feel free to contact us if you have any questions or concerns about applying for a green card for your parents. We look forward to speaking with you.