Asylum vs. Withholding of Removal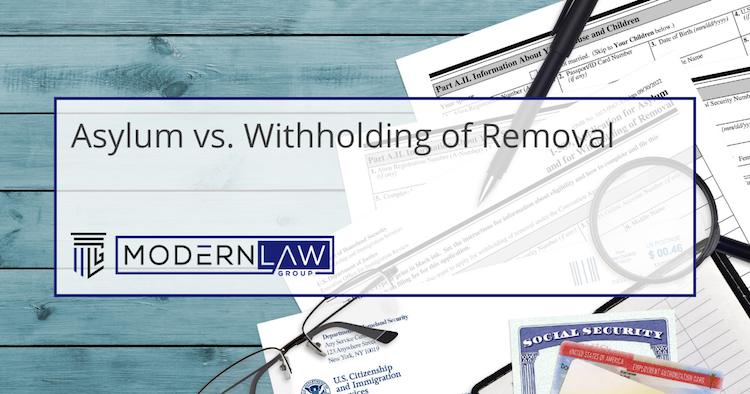 Many of you have heard about asylum as a form of protection in the US. But not many know about Withholding of Removal, which, just like asylum, also allows you to remain in the US.
In This Case, What is the Difference, You Would Ask?
While seeking protection in the US from persecution in your home country, it is common for you to be found in an uneasy situation where you have to fight for your rights in the Immigration court to establish your fears so that you are allowed to stay in the US and not be deported to the country of your origin.
While you are allowed by the Law to apply for asylum yourself, by filling out the appropriate paperwork and submitting it to the government, it is in your best interest to have a qualified attorney on your side to protect you on your journey to legalizing your status in your newly found homeland and in receiving initial immigration benefits with that regard. It is wise to seek an experienced attorney's help from the beginning of the process so that you are not found in deportation proceedings because of errors made in your initial submission due to lack of expert advice.
If upon completion of the painstaking process you are granted asylum, it is time to celebrate with your whole family, since the benefits package that comes with that covers a wide range. Here is what we mean. Once you are granted asylum, all of your family members whom you included in your asylum application and who are in the United States may be granted asylum too. Moreover, if you have eligible family members who are not in the United States, you can file a petition to bring them to the United States too. Most importantly, eventually, individuals who have been granted asylum can apply for lawful permanent residence, and for US citizenship to finalize their immigration journey in this great country.
What Happens if, due yo Your Individual Situation, You are not Granted Asylum?
You may still be allowed to remain in the US.
Another form of protection from deportation is called 'Withholding of Removal' Even though the status is similar to that of asylum, there are significant differences in the benefits.
"Withholding of removal" is a mandatory form of protection from deportation for many. It prohibits the U.S. government from deporting a non-citizen to a country in which the immigrant's life would be in danger because of their race, religion, nationality, political opinion, or membership in a particular social group.
Withholding of removal is available to those aliens who can prove that being removed to the original country would result in their persecution either on account of race, or religion, nationality, membership in a particular social group, or political opinion. Nonetheless, the alien can still be removed to a third country, if the court finds that doing so would not threaten the alien's life or freedom. Here, we could not emphasize more, how important it is to have an experienced immigration attorney next to you fighting for your best interests on your behalf.
Unlike asylum, withholding of removal does not provide any relief for the family members, whether they are in the United States or in another country. It is more like a relief, rather than an established status such as the one granted asylum.
Those aliens who receive withholding of removal do not become eligible for Green Card (lawful permanent residence) or US citizenship. But, an alien who is granted withholding of removal is eligible to apply for work authorization in the United States and have it continuously renewed.
In order to be eligible for asylum benefits, you must maintain the guidelines and file your case within the time limit of one year from the date of your last arrival in the US. There are certain exceptions to the one-year limitation, please feel free to contact our office to discuss your individual circumstances. But if you are afraid for your life to return to your home country, make sure you submit your application within your first year in the US. However, if you must file for Withholding of Removal the one-year filing deadline does not apply.
Even though the battle of proving the person's eligibility for asylum benefits or Withholding of Removal relief is a complicated and hard process, in comparison it is relatively easier to prove one's eligibility for asylum rather than for Withholding of Removal. Here is why. Speaking in legal terms, asylum requires a showing of a "well-founded fear" of persecution, which is defined as a 10% likelihood of persecution, while Withholding of Removal requires establishing that it is "more likely than not" (or greater than 50%) that that the applicant would be subjected to persecution if removed from the US and returned to home country.
We, at the Modern Law Group, P.C., are dedicated to defending your interests and rights, if you are facing removal from the United States, regardless of your circumstances. We have great experience in deportation defense law and have the knowledge and expertise necessary to efficiently estimate the facts of your situation, to build a strong defense on your behalf in court.
If you are found in removal proceedings because of denied asylum and withholding of removal are only two of the defenses that are potentially available to you. Feel free to contact our offices for a free consultation to learn how we can help you with your case.