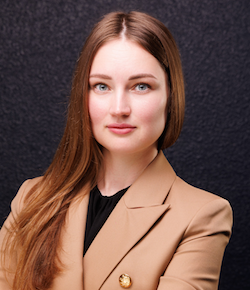 Yulia
Attorney
Yulia is originally from a small town in Russia, just outside the city of Yekaterinburg. While in Russia, she graduated cum laude from the Ural State Law Academy majoring in International Law. After graduation, Yulia worked for the international gas company, Gazprom, as an in-house counsel. One of her most notable accomplishments was establishing and organizing a subsidiary company for Gazprom.
Yulia's passion for law and eagerness to seek knowledge from the best eventually brought her to the United States. In 2016, she truly put her knowledge to the test by pursuing her master's degree in law from the University of Southern California. Currently Yulia is licensed to practice law in California.
While working her way up in the United States, Yulia began her legal career as a legal assistant for a Russian-speaking practitioner. She assisted with several high-priority immigration cases and projects during that time. Yulia garnered additional experience while interning at the Los Angeles Superior Court, where she worked closely with the Supervising Judge for the South District, James Otto. There she thoroughly observed the court system by attending criminal and civil trials and preparing comprehensive legal research documents for the district judges. When Yulia passed the California Bar exam, she became an immigration attorney at a highly regarded law firm based in Los Angeles.
Eventually, Yulia moved to San Diego and began working at Modern Law Group, P.C. Here her diverse skill set allows her to effectively work on asylum applications, family petitions, naturalization, and adjustment of status. She specializes with Russian-speaking clients from all parts of the world including Russia, Ukraine, Armenia, Kazakhstan, Kyrgyzstan, Uzbekistan, and many others. Being an immigrant herself, Yulia knows first-hand the difficulties of applying for immigration benefits. She takes great pride in her craft and fully dedicates herself to each client.